Hyperstone donates to local charities for the festive season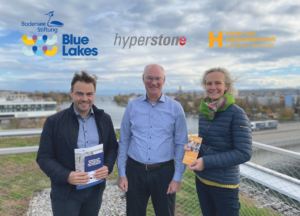 This year for the festive season, in the spirit of giving,
Hyperstone
has donated to two local charities and projects. Hyperstone is a fabless NAND flash memory controller company enabling safe, reliable, and secure storage systems. With a focus on industrial solutions, Hyperstone strives to be the key component in world-class products for industrial, embedded, automotive, and global communications storage applications. Hyperstone was founded in 1990 in Constance.
Hyperstone supports the Lake Constance Foundation for its fight for the protection of Lake Constance with the Blue Lakes Project under the leadership of Dimitri Vedel. And the Constance childrens hospital, represented by Petra Dierenbach, does valuable work with children and young people who are affected by serious illness.
Learn more here: Kinderhospizarbeit Konstanz
Reach out if you would also like to donate!