GeNIAL
Educating for sustainable adaptation of German agriculture to climate change – Sensitising, informing, training
Field of action: Agriculture & the Food Sector
Project goals: The project GeNIAL aims to sensitize agricultural stakeholders, in the arable, horticulture, fruit growing and viticulture sector, for climate change and to enable them to adapt their farms to the changing climate with sustainable measures. To this end, training materials as well as teaching and further training modules for educational and advisory institutions in the project region of Baden-Württemberg and Hesse are being developed. After this pilot phase, the developed documents will be offered to educational and advisory institutions in all German states.
Project area: Germany (focus on Baden-Württemberg and Hesse)
Duration: May 2020 to April 2022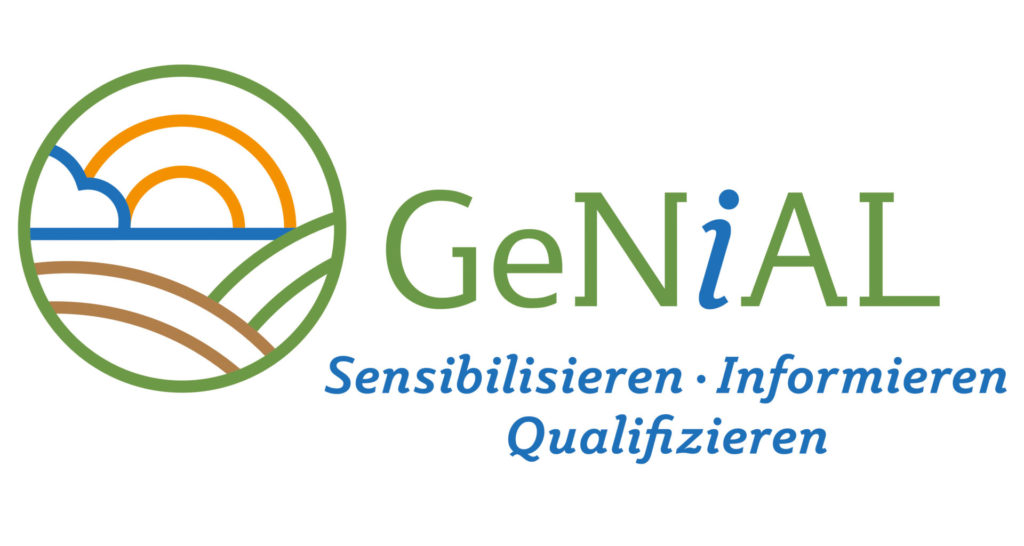 Background
Climate change poses new challenges for agriculture (including horticulture, fruit growing and viticulture). Heat, drought, late frosts, floods and heavy precipitation occur at a scale and frequency that make adaptation necessary. Knowledge about climate change and the challenges posed by changing climatic conditions, as well as sustainable adaptation measures, have not yet been part of educational and advisory services offered in Germany.
Implementation
In order to address both current and future farmers and to promote knowledge and awareness of the climate-related challenges and adaptation measures, GeNIAL addresses agricultural schools, farmers and agricultural advisors, thus developing a multiplier effect with a broad impact. Training materials and modules for the sustainable adaptation of agriculture to climate change are being developed for farmers in agricultural, horticultural, viticultural and fruit growing technical schools in Baden-Württemberg and Hesse. In addition, further training events will be implemented and educational and advisory services for multipliers will be provided.
Project Partners
Landesbetrieb Landwirtschaft Hessen
Landesanstalt für Landwirtschaft, Ernährung und Ländlichen Raum (LEL)
Landwirtschaftliches Technologiezentrum Augustenberg (LTZ)
Project Funding
Federal Ministry for the Environment, Nature Conservation and Nuclear Safety (BMU)