Promotion of Biodivesity in Fruit Plantations
Establishment of model plantations in Baden-Württemberg
Field of action: Agriculture & the Food Sector
Project goals: Establishment and optimization of model plantations for the promotion of biological diversity in fruit plantations – Knowledge transfer to fruit-growing and nature conservation groups
Project area: Baden-Württemberg (Lake Constance region, Heilbronn region)
Duration: first project period: October 2019 – December 2020, second project period: February – Octobre 2021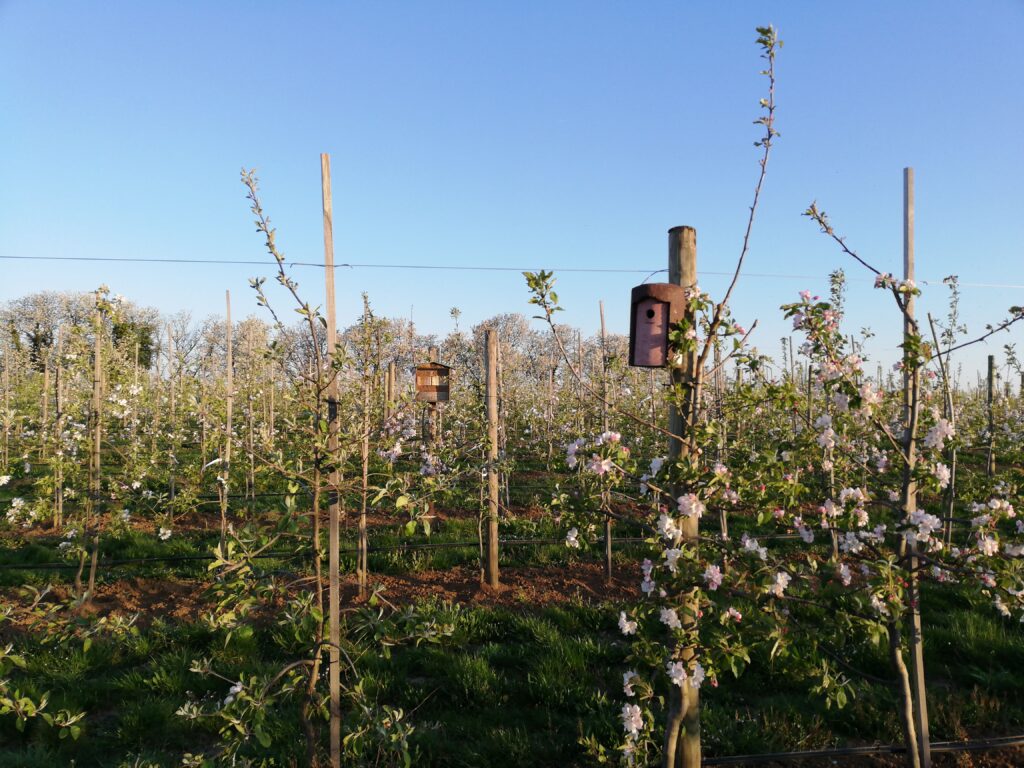 Background
Flower visiting insects such as honeybees, wild bees, flies, wasps, butterflies and beetles have a central function in the ecosystem as pollinators. Cross-pollination by insects is essential for 80% of domestic flowering plants and 84% of European crops. In recent years, an increased decline in the number of bees and other insects has been observed. In fruit growing, these insects are not only of ecological but also of great economic importance as they ensure pollination.
Implementation
The focus in the first project period was on the establishment of six model fruit plantations, in which measures are taken to increase or maintain biodiversity. Measures such as the planting of flowering strips and flowering tramlines, but also the planting of anchor plants and the reduction of pesticides through the use of appropriate spraying/treatment technology play an important role.
In the current, second project period, the focus is on the technical monitoring of the model areas in order to optimize the measures and, at the same time, to pass on the knowledge and experience to fruit-growing and nature conservation-related groups. For this purpose, a target group-oriented communication concept was developed. The elaboration of the training and information documents and the implementation of the educational concept aim at increasing the knowledge about the enhancement of biodiversity in table fruit orchards in fruit-growing and nature conservation-related groups.