Flower Kids
Discover wild bees and the diversity of their habitats!
Field of action: Natuer & Lake Conservation
Project goals: Kids learn about different habitats, wild herbs and pollinating insects (with a focus on wild bees) in a playful and active way and are supported to get involved in biodiversity and wild bee protection in their living environment.
Project area: Lake Constance Region
Duration: September 2021 – September 2024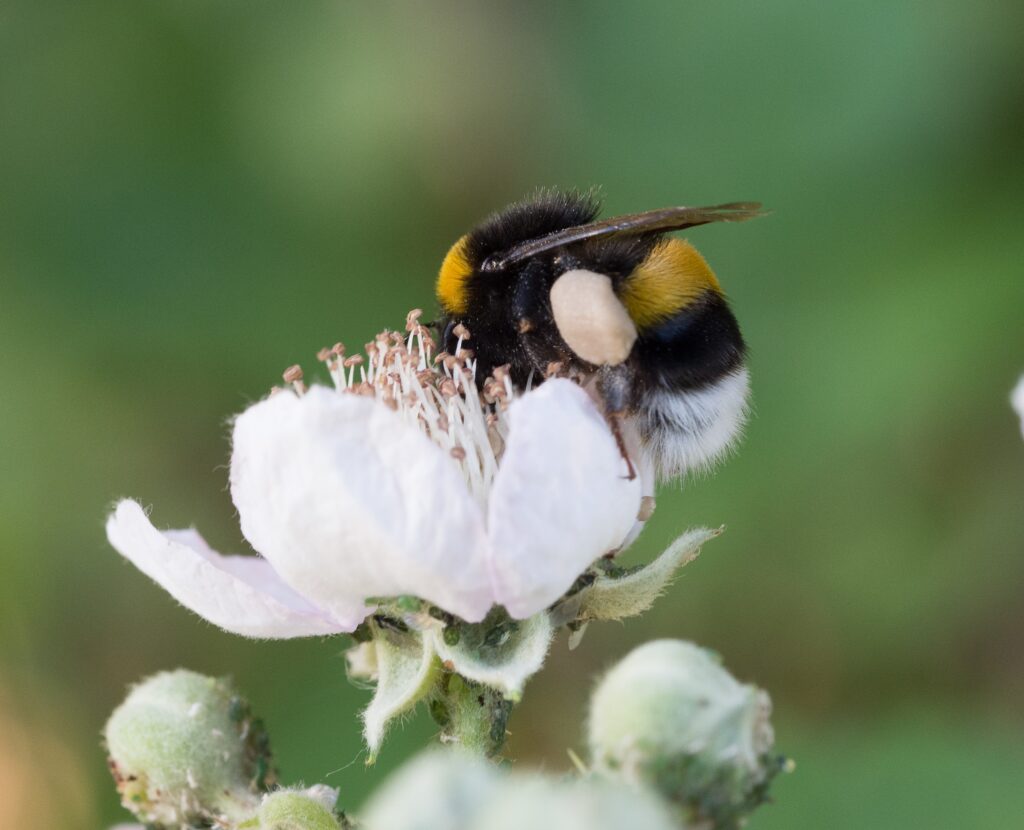 Background
The idea behind the project is that children develop a sensitivity for nature conservation through direct experience of nature. When they explore something independently and discover connections, the knowledge becomes anchored in their consciousness. The topic of diversity and pollinating insects was chosen for the project, as these (apart from the honey bee) are still often disregarded by the public. However, since they are of enormous importance and wild bees in particular are very well studied, we would like to introduce children to the topic. Wild bees in particular, which are specifically chosen as the focus of the project, are a very "destinctive" group of insects (e.g. in terms of size) and some species are easily distinguishable for the layperson, so that children can also discover the diversity for themselves. In addition, the several hundred species of wild bees with their specialized habitats and forage plants provide an excellent basis for vividly experiencing the topic of diversity.
Implementation
We introduce the children to the topic of diversity and insects/wild bees through regular, playful exploration in age-appropriate steps, one unit lasting about 2 hours: seeing, hearing, feeling, and exploring are central to learning about the environment. Accompanying questions include: What are the colors and shapes of flowers? Which insects fly where? What differences do we discover in an area? Discovery games, sharpening the senses through observation, handicrafts and crafts are further methods used in the project.
"Do-it-yourself" is central to anchoring knowledge and strengthening sensitivity to diversity and insects: collecting and piling stones and deadwood, sowing and/or planting flowering plants, and maintaining the area are among them. In the second phase of the project, the children repeat what they have learned and implement their strengthened skills in their own actions. The aim is that volunteer flower ambassadors, teachers, parents and other adults in the children's environment will support the children's activities. The children take on the role of "flower ambassadors" and advocate for diversity and wild bees. Targeted public relations work accompanies the project.
In 2022, Flower Kids will be "trained" in cooperation with the children's cultural center Lollipop Radolfzell. Registration is still possible here.
Flower Kids is a project within the framework of the program "Learning Sustainability – Children Shape the Future" of the Baden-Württemberg Foundation in cooperation with the Heidehof Foundation. The Baden-Württemberg Foundation is committed to a vibrant and livable Baden-Württemberg.
Contact
Contact person: Antje Reich and Saskia Wolf
E-mail: antje.reich@bodensee-stiftung.org or saskia.wolf@bodensee-stiftung.org
Phone: +49 (0) 7732-999540
Homepage: –
Project Funding
Baden-Württemberg Stiftung
Heidehof-Stiftung