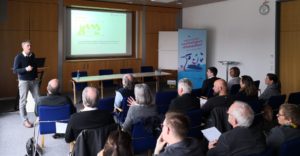 On the 14th of October 2021, the CSSC Lab project presented its capacity building and training programme to stakeholders in the Danube region.
During the event, Roman Kekec, Local Energy Agency Spodnje Podravje, Slovenia introduced the programme, which targets municipalities, utilities and other actors involved in the energy sector.
The CSSC Lab capacity building and training programme will begin in October 2021 and run until September 2022. Made up of three sets of training formats, namely local basic and local advanced trainings as well as city coachings, the trainings will take place in Croatia, Germany, the Czech Republic, Slovakia, Austria, Slovenia, Romania, Bulgaria, Moldova, Bosnia and Herzegovina and Montenegro.
8 modules will be made available on sector coupling and energy storage (both from a technological and an economic perspective):
Heat system – energy storage & sector coupling
Electrical system – energy storage & sector coupling
Emerging technologies & sector coupling applications
Use cases and good practice examples
Macro-economic energy market conditions
Micro-economic factors influencing economic efficiency of CSSC installations in urban settings
Economic assessment of practice examples
Business models and Financing solutions
To take part in the trainings or obtain more information on the programme, please contact your local partner and keep following communication either via our website or social media.
Related links:
About CSSC Lab
CSSC Lab is an initiative implemented by 17 partners in11 countries, aiming to accelerate the up-take of CSSC solutions in Danube region cities. At present, there are few sector coupling initiatives because public authorities possess little knowledge on the subject tend shy away from the associated investment risks. To overcome these barriers, the CSSC Lab project plans to conduct a capacity building programme for municipalities and to demonstrate the viability of CSSC solutions for medium-sized and smaller cities in the Danube region.