State Secretary Andre Baumann informs himself at the Blue Lakes stand in the Black Forest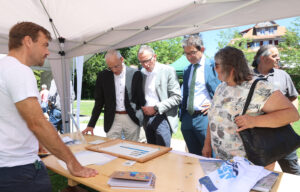 Königsfeld im Schwarzwald/ Radolfzell a. B. (06.07.2022): Andre Baumann, State Secretary in the State Ministry for the Environment, Climate and Energy Management, visited the stand of the Lake Constance Foundation together with the Member of the State Parliament Martina Braun, the District Administrator Sven Hinterseh from the district Schwarzwald-Baar and Mayor Fritz Link from the municipality Königsfeld during their tour on the action day "Treffpunkt Natur". Together they tried to find out what the main sources of microplastics are. Surprising to all was the major impact of artificial turf sports fields, which are filled with the fine granulate and can end up in the environment if poorly maintained, for example during heavy rain events. Dimitri Vedel, project manager at the Lake Constance Foundation, explained in the discussion what the EU-LIFE project Blue Lakes proposes to avoid microplastic leaching. The special role of the municipalities was also discussed. The measures developed in the project can be transferred to all municipalities. One suggestion was to make the lakes paper with the voluntary commitment available to all cities and municipalities.
Many visitors spoke about their experiences with littering and it became very clear that there is no area where there is no litter in nature. It doesn't matter if it's along lakes and rivers, as is the case in Blue Lakes, or on a hike in the middle of the Black Forest. You can find rubbish everywhere. The numerous visitors were informed about what they can do concretely to reduce plastic in their everyday life. Dimitri Vedel recommended the interested stand guests to try a challenge. For one week, they should consciously do without plastic when shopping, e.g. not buy any pre-packed vegetables or fruit.
The visitors at the stand were also very interested in the connections to water consumption and how this affects access to water here and in the Global South. The water stories provided by FINEP not only offered a good place to sit, but also invited visitors to learn more about the importance of water in different countries via a podcast. It became clear how important water, which is becoming increasingly scarce, must remain clean as a basis of life for people and animals.