CAP4GI
Potentials in the Common Agricultural Policy for Better Support of Green Infrastructure, Biodiversity and Ecosystem Services
Field of action: Agriculture and the Food Sector
Project goals: Identify ways in which a landscape approach can improve the ecological effectiveness of agri-environmental measures and how it can be transferred to different socio-ecological systems.
Project area: Germany-wide with study regions in Baden-Württemberg and Thuringia
Duration: November 2021 – December 2024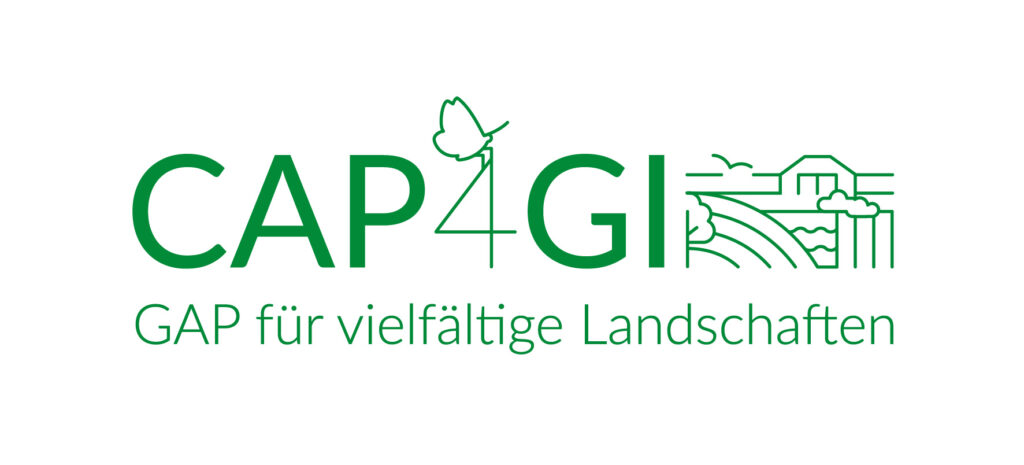 Background
The decline of biodiversity in agricultural landscapes is faster than in other landscape types. Maintaining green infrastructures offers an opportunity to counteract this decline as well as creating synergies with other policy objectives such as climate change mitigation, adaptation to climate change or increasing soil fertility. However, agri-environmental measures that promote these objectives are not applied widely enough and are not adopted by the agricultural sector. The EU Common Agricultural Policy provides the main tool to influence the design of agricultural landscapes and offers a great leverage potential to improve biodiversity services through direct payments.
Implementation
Through participatory platforms in the case study regions of Baden-Württemberg and Thuringia, the barriers for farmers to implement agri-environmental measures will be highlighted. In a co-design process, the stakeholders will help shape the content of the platforms over a period of three years. The University of Rostock will also shed light on the economic side of the measures, what are the real costs of implementing such measures, what are the economic barriers, what is the acceptance of various agri-environmental instruments? The UFZ uses the gained knowledge to model the decision of farmers and the biodiversity dynamics. Conclusions can be drawn on how future agri-environmental measures need to be designed in order to find a higher acceptance in agriculture.
Project Partners
Adelphi
Deutscher Naturschutzring (DNR)
Helmholtz Zentrum für Umweltforschung (UFZ)
Universität Rostock
Wildtierland Hainich gGmbh