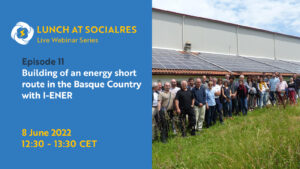 A new episode of webinar series "Lunch at SocialRES "is announced.
In the 11th episode of Lunch at SocialRES, we will talk about a new energy model that our partner is trying to create in the Basque country. They created two cooperatives, I-ENER and ENARGIA to relocate the energy subjects on a small scale. The value proposition of I-ENER is to generate electricity by a system owned by citizens and then they created ENARGIA for green electricity supply and therefore complete the electricity value chain in the territory (production and supply).
Together with the coordinator Silvia Caneva, the speaker is Iban Lacoste, an employee of I-ENER and shareholder of both cooperatives (I-ENER and ENARGIA). This webinar will be the opportunity to describe the development of this model and the different steps to build it.
This webinar is part of the SocialRES project, which is a research and innovation project funded by the European Union. Its aim is to foster energy democracy through social innovation and the active collaboration between cooperatives, aggregators of renewable energy and crowdfunding platforms.
Title: Building of an energy short route in the Basque Country with I-ENER
Date: 08. June. 2022; 12.30-13.30 CET
Registration: click here
The event will be held in English.